This 350TPH - 400 TPH stone crushing plant is widely used as sand making line, stone crushing plant, ore dressing line, aggregate production line, construction waste recycling plant and so on. For the contractors and final users, SBM Machinery has designed complete stationary, portable, mobile crushing plants.
PFW series impact crusher is new designed advanced impactor crusher with hydraulic system. SBM PFW impact crusher features with large crushing capacity, versatile application etc. It is widely used highway construction, water conservancy projects, building rubble and sand processing and so on.
Flow chart of stone crushing plant: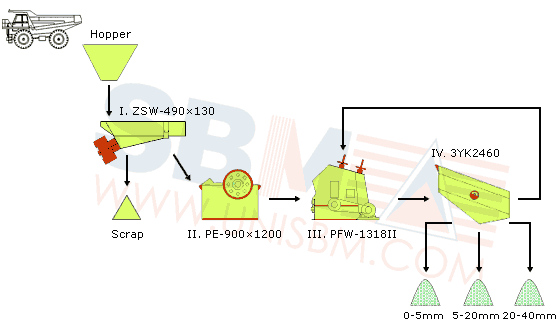 SBM 350TPH - 400 TPH stone crusher plant includes LC3000X4000 Hopper, ZSW-490×130 Vibrating Feeder, PE-900×1200 Jaw crusher, PFW1318II Impact crusher, and 3YA2460 Vibrating screen. This crusher plant is used for manufacturing 0-5, 5-20, 20-40 mm production by crushing limestone, granite, gravel, rock, iron ores and quartz sand.
Plant crushing stages: typical equipment and products
On-pit crushing plant process pictures :

Medium scale stone crushing plant of 350 - 400TPH manufactured by SBM Machinery has been exported to more than 100 countries such as India, Russia, Chile, Canada, Ghana, South Africa, The UAE etc.
Contact SBM
For product information and pricing, Chat with sales agent:
or email us:
[email protected]
Browse by Application
Build an end-to-end solution that fits your applications, work processes, and business needs.
Related Products