The 500 TPH -600 TPH stone crushing plant with jaw & cone crusher is suitable for crushing bulk materials at a fixed open-pit mine or quarry. This series stone crushing plant consists of large scale jaw crusher, heavy duty cone crusher, vibrating feeder, vibrating screen, belt conveyor and other auxiliary equipment.
Flow chart of stone crushing plant: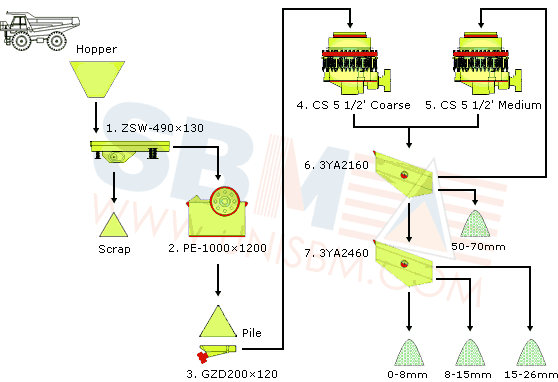 SBM has built the complete 500 TPH -600 TPH stone crushing plant in India for producing building materials such as sand and aggregates. This stone crushing plant consist of LC3000X4000 Hopper, ZSW-490×130 Vibrating Feeder, PE-1000×1200 Jaw crusher, GZD-200×120 Vibrating Feeder, CSB240 - Coarse Cone crusher, CSB240 - Medium Cone crusher, Vibrating screen with type 3YA2460 and 3YA2160. It can be used for manufacturing building aggregates sand with 0-8, 8-15, 15-26, and 50-70 mm particle size.
Plant crushing stages: typical equipment and products
On-pit crushing plant process pictures :

Large scale stone crushing plant of 500 -600 TPH manufactured by SBM Machinery is widely used in mineral beneficiation plant, road and bridge aggregate production, stone mining plant and so on.
Contact SBM
For product information and pricing, Chat with sales agent:
or email us:
[email protected]
Browse by Application
Build an end-to-end solution that fits your applications, work processes, and business needs.
Related Products