The stone crushing plant with 600 TPH - 800 TPH capacity consists of jaw crusher, cone crusher, VSI crusher and other auxiliary equipment. The crushing & screening plant is widely used in large mining, quarrying, construction sites to process iron ore, gold, copper, bauxite, limestone, granite, basalt.
Flow chart of stone crushing plant: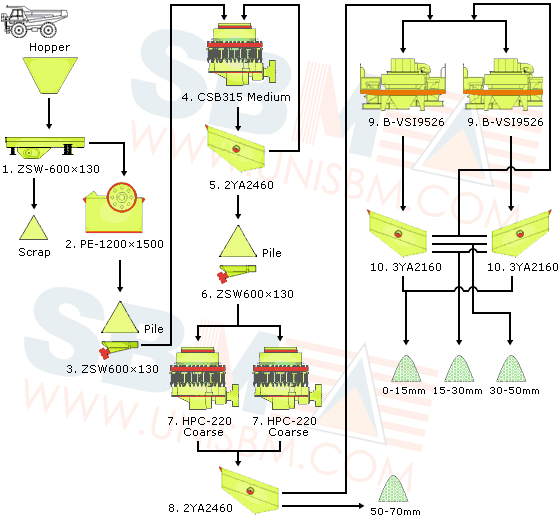 SBM 600 TPH - 800 TPH stone crusher plant includes ZSW-600×130 Vibrating Feeder, PE-1200×1500 Jaw crusher, CSB315 - Medium and HPC220 - Coarse Cone crusher, 2YA2460 and 3YA2160 Vibrating screen, B-VSI9526 VSI crusher. The max feeding size is 1000mm, and the output size is 0-15 mm, 15-30 mm, 30-50 mm, 50-70 mm.
Plant crushing stages: typical equipment and products
On-pit crushing plant process pictures :

Large scale 600 TPH - 800 TPH stone crushing plant manufactured by SBM Machinery is widely used in many large companies such as Vale, Rio Tinto, BHP Billiton etc.
Contact SBM
For product information and pricing, Chat with sales agent:
or email us:
[email protected]
Browse by Application
Build an end-to-end solution that fits your applications, work processes, and business needs.
Related Products